Tuck Your Tummy for a Slimmer Look
Tummy Tuck Dallas, Southlake, Plano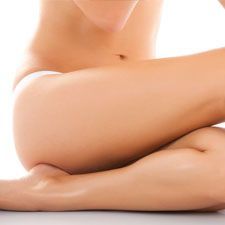 When excess tummy fat is keeping you from having the body you want, or dramatic weight loss has left you with sagging skin, a tummy tuck can be performed to trim, smooth, and flatten your abdomen. Also known as abdominoplasty, tummy tuck surgery can reduce the pesky bulge around your midsection and give the area better definition.
Dr. Jason Potter has been performing tummy tuck procedures through his Dallas office for many years, and enjoys improving the lives of his patients. With a thinner, tighter tummy, you will have the refined appearance you desire and the self-confidence you need to thrive. To schedule your first consultation with Dr. Potter, contact us today.
Types of Tucks
Traditional Tummy Tuck: Performed on patients with excess abdominal fatty tissue or fullness as well as extra or loose skin on the abdomen.

Mini Tummy Tuck: For our patients with more limited needs, a mini tummy tuck is less extensive than its traditional counterpart and requires a smaller incision.

Extended Tummy Tuck: Often performed on healthy adults who have lost an extreme amount of weight, an extended tummy tuck reaches past the hips to the love handles for more comprehensive results.

Tummy Tuck and Breast Reconstruction: If you have undergone mastectomy and are opting for a breast reconstruction, ask Dr. Potter about combining it with a tummy tuck for a very rewarding result.
Understanding the Procedure
Before you decide to undergo a tummy tuck procedure, you and Dr. Potter will discuss your goals and your medical history. He will also give you specific instructions about preparing for tummy tuck surgery. As a precaution, we ask that you don't consume aspirin or anti-inflammatory medicine before your surgery, as they are known to increase bleeding.
Under general anesthesia, an incision will be made low on your abdomen, across to each of your hips. Using this incision, Dr. Potter will lift, trim, and tighten your skin and the tissue of the abdominal wall between your stomach and breast bone. Tightening your abdominal muscles will make your tummy look trimmer and fitter. Once the tuck is complete, Dr. Potter will use his keen artistic eye to re-drape the skin over the muscles and create a beautifully sculpted, yet completely natural-looking, result. His closure technique minimizes scarring and stretch marks.
Depending on the patient and the individual situation, abdominoplasty may be performed as an outpatient procedure or include an overnight stay at the hospital or our medical hotel. At your first postoperative visit any drain tubes that may be present are often removed and you will be reminded of your limited activity. You should plan light activity for the first couple weeks. Gradually, light to moderate activity can be done to promote healing. After a few weeks, you will be able to return to your normal level of activity.
Candidacy
Your initial consultation with Dr. Potter will determine your candidacy for tummy tuck. It is important that you are not at high risk for bleeding, scarring, or infection before undergoing the procedure. If you are a smoker, you will need to quit before having a tummy tuck. Those with high blood pressure or existing medical conditions may need to take extra precautions when choosing to have a tummy tuck. When you meet with Dr. Potter for your consultation, please bring a list of your prescription medications and allergies, if you have any. These will help the doctor determine whether a tummy tuck is right for you. This appointment is a great time to address any other concerns you may have.
Learn More about Tummy Tuck
If you are ready to shed that excess skin around your midsection, we invite you to visit our state-of-the-art surgical facility in Dallas to learn more about the tummy tuck procedure and its benefits. We can help you achieve the look that will make you feel confident and ready to take on the world. If you are interested in scheduling a consultation, contact Dr. Potter today.