Extended Tummy Tuck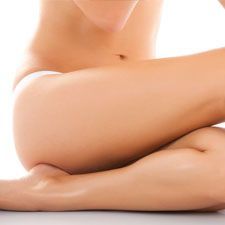 The abdominal area is arguably one of the most hated areas of the body, with countless people trying everything in their power to obtain a flatter, smoother and more toned stomach. Unfortunately, this area is particularly affected by weight gain and loss, both as a result of pregnancy and lifestyle choice. When weight and abdomen size fluctuate, it can cause the skin and muscles to stretch and all too often, they do not spring back to their original position if the weight is then lost. Instead, the patient is left with sagging skin, poor muscle tone and overall dissatisfaction with their appearance. Diet and exercise can help improve the way that it looks, but invariably there are some changes which are permanent and unaffected, even by our very best efforts.
What is an extended tummy tuck?
An extended tummy tuck is an expanded abdominoplasty procedure during which Dr. Potter will not only give you a full tummy tuck to improve the shape and appearance of the abdomen, but he will also remove excess skin from your sides and improve the muscle laxity of your flanks – the area most commonly known as 'love handles'. This enables patients to benefit from a total transformation of the middle part of their bodies.



What is involved in an extended tummy tuck?
As we know, an extended tummy tuck is an expansion of the conventional tummy tuck procedure. This means that the incision needed to perform the surgery is much longer, which gives Dr. Potter access to the skin on the sides of the body. You can expect it to reach as far around on each side of the hip as possible.
Despite the longer incision, the extended tummy tuck procedure is virtually identical to that of a conventional abdominoplasty. The skin will be separated from the underlying muscles of the abdomen and flanks, and these will be tightened were necessary in order to create greater, strength, tone and definition. Once this is complete, the skin will be pulled tight so that it is smooth and is then secured using sutures or staples. Excess fatty skin can be cut away and discarded, completing the process.
The entire surgery is carried out whilst you are under the effects of a general anesthetic, meaning you aren't awake or in any pain. Just like a conventional abdominoplasty, you can expect a considerable recovery period, with our team advising you just how long you can expect to need to take off of work and to recover fully.



Am I a good candidate for an extended tummy tuck?
Patients who are good candidates for an extended tummy tuck usually have one or more of the following concerns about their body:
- Abdominal skin that hangs down and folds over itself
- Excess skin around the abdomen and waist
- Over-stretched abdominal muscles that cause a bulging abdomen
- Skin that hangs to the sides of the abdomen
- Sagging in the pubic area
- Stretch marks across the abdomen and flanks
- Infections and similar issues due to sagging and hanging skin folds
Patients who are considered good candidates for a tummy tuck have usually completed their family and have no intention of becoming pregnant again in the future. They are also at a stable weight. This is important because fluctuations in weight and abdominal size can reverse the effects of the extended tummy tuck and render the initial surgery pointless.
If you are unhappy with the shape and overall appearance of your abdominal area, an extended tummy tuck could be the solution you are looking for. If you would like more information about this transformative procedure, or if you are ready to schedule your consultation, please get in touch by calling our plastic surgery offices in Dallas, TX today.