A Beautiful New Bust Line
Breast Augmentation Dallas, Southlake, Plano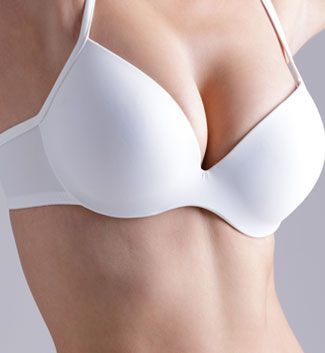 Understanding the Procedure
As with any of our procedures, your breast augmentation surgery will begin with a thorough physical examination and consultation.
On the day of the procedure, you will need to have someone drive you to and from your surgery, as you will be placed under general anesthesia to ensure your comfort during the surgery.
The length of your recovery period will depend on your individual case and will be discussed prior to surgery. Most patients are able to return to work in a few days but are advised to avoid physical activity for a couple weeks. Soreness and bruising are to be expected, and should dissipate after three or four weeks.
Implant Types
Saline and silicone implants are the two most common types of implants used for breast augmentation. Each type provides different benefits and produces different results. During your initial consultation with Dr. Potter, you will discuss the overall look you desire and, guided by your expectations and goals, Dr. Potter will suggest which implant is best suited to you.
Saline implants are filled with sterile salt water and can be filled at the time of surgery, so a smaller incision may be possible. Saline implants are considered to be extremely safe because, if they rupture, the saline will absorb safely into your body.

Silicone implants are often chosen for their more natural look and feel. Because silicone implants are prefilled by the manufacturer, a longer incision may be necessary to insert them.
Incision Placement
Inframammary incisions are made in the crease under the breast, above the connection between the breast tissue and the rib cage.

Periareolar incisions are made at the edge of the areola, the pink or brownish skin around your nipple.

Transaxillary incisions are made in the natural folds of your underarm, through which the implant is channeled to the breast.

Transumbilical incisions are made around the belly button, through which the implant is channeled under the skin to the breast.
Implant Placement
Implants can be placed beneath the pectoral muscles to optimize results for patients who are thinner, have little breast tissue, or slight builds. The added layer of muscle helps cover the implant to make it less visible and more natural.

The subglandular technique involves placing the implants on top of the pectoral muscles. This technique is used for patients with more breast tissue.
The Cost of Surgery
Dr. Potter offers financial guidance to his patients to ensure that money does not add stress to their experience. Estimates are given at the time of the consultation to help you plan for your surgery. It is important to remember, that although cosmetic surgery comes with a cost, the chance to achieve a figure that will give you confidence and pride is one worth taking. This procedure, as with the rest of our services, is an investment for a new you.
Candidacy
Your candidacy for surgery will be determined at the time of your consultation. Our Dallas staff will schedule an appointment for you and Dr. Potter to discuss the details of your candidacy.
Learn More about Breast Augmentation
If you would like to schedule an appointment, or need more information about breast augmentation, contact our Dallas office today.